Elliptical Trainer Arm & Leg Action
If you love to walk or run but are looking for a low-impact workout that is good on your joints and tendons, the elliptical trainer may be just the piece of exercise equipment you are looking for.

Elliptical trainers provide a similar workout to walking or running, but with much less bounce and impact. In addition to offering a great cardiovascular workout, elliptical trainers work all the major muscle groups in the leg. Depending upon which muscles you want to work, elliptical trainers can move forward or backward. The forward direction will emphasize the same muscles that you use while running or walking, while the backward motion will develop the gluteal muscles.

Elliptical trainers and treadmills are two of the most popular exercise machines for getting an aerobic workout indoors, but ellipticals have an advantage in that they are much more impact free. An elliptical trainer combines the best features of a stair climber, a stationary bike, and a cross-country ski machine. You place your feet on large platforms and pedal your legs in an elliptical pattern. Your feet never leave the platforms, so there is even less impact on your joints than walking! Yet your heart can benefit from this good aerobic exercise. Because the joints and lower body remain free from jarring abuse, elliptical training machines are more easily used by the elderly and those with knee problems. Rehabilitation clinic trainers use them as well.

Many elliptical trainers come with handles that, when gripped, display your heart rate. By monitoring your heart rate, you can determine whether your are meeting your exercise goals. However, when not actively monitoring your heart rate, it's best to keep your hands off the handles, because leaning on the machine will decrease the intensity of your workout. In fact, the best way to get the most out of your elliptical trainer workout is to allow your hands and arms to swing naturally, as if you were walking or running. The average number of steps in an elliptical trainer workout is 130 steps per minute, with higher speeds of 150 or 160 steps per minute the equivalent of faster walking.

Elliptical trainers are available in a wide range of prices for home or commercial use, with varying feature sets, but many machines offer resistance and incline adjustments to suit your physical condition. Most elliptical machines have dual action handlebars allowing a total body workout. The pedals are reversible, so all the leg muscles get exercised, and the workout can be reversed for variety.

The elliptical trainer provides a great cardiovascular workout with maximum efficiency. It burns roughly the same amount of calories as a treadmill with the impression of a lot less effort. Elliptical trainers are quickly becoming one of the most popular types of fitness equipment, and many models are compact enough for home use.
Elliptical Trainer Manufacturers
Elliptical Trainer Reviews
Elliptical Reviews
Elliptical machine buyers' guide. Compare elliptical trainers and read elliptical trainer reviews, organized by brand and by price.
www.EllipticalReviews.com
Consumer Reports - Ellipticals
According to Consumer Reports, elliptical exercisers are part stair-climber and part cross-country skiing machine. Your feet move in an elliptical pattern, and the workout value comes from resistance that slows the elliptical's flywheel as you try to turn it. Consumer Reports' elliptical exerciser buying guide can help you compare elliptical features and select the best elliptical training machine for your needs.
www.ConsumerReports.com
---
Copyright 2004-2021 Zeducorp.
All rights reserved.
About us
.
Contact us
.
Search
.
For your convenience, certain links will open in new windows.
Elliptical Trainer Guide
Elliptical Training in a Living Room
Related Elliptical Image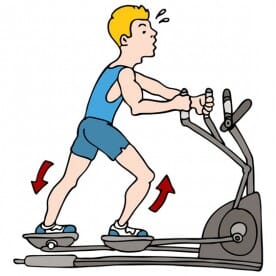 Elliptical Machine Illustration